Happy St. Patrick's Day!

May your blessings outnumber
The shamrocks that grow,
And may trouble avoid you
Wherever you go.
~Irish Blessing
Maybe today will be your lucky day and you will win one of these...
________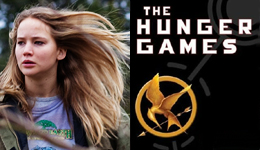 "Oscar nominee Jennifer Lawrence (
Winter's Bone
) will play the role of Katniss in
The Hunger Games
, based on the bestselling novels by Suzanne Collins, the
Wrap
reported. Lionsgate "plans the franchise as a trilogy which will include
The Hunger Games
,
Catching Fire
and
Mockingjay
. Gary Ross (
Seabiscuit
) is directing the film, which will debut on March 23, 2012."
Several actors are rumored to be under consideration for the role of Peeta Mellark, including Alex Pettyfer (
I Am Number Four
), Josh Hutcherson (
The Kids Are All Right
,
Bridge to Terabithia
) and Hunter Parrish (
Weeds
), the
Wrap
wrote."
If they take my vote into consideration I would go with Hunter Parrish for Peeta. #HunterasPeetaFTW! Who would you vote for?